A geographic information system (GIS) is a framework for gathering, managing, and analyzing data. Rooted in the science of geography, GIS integrates many types of data. It analyzes spatial location and organizes layers of information into visualizations using maps and 3D scenes. With this unique capability, GIS reveals deeper insights into data, such as patterns, relationships, and situations—helping us make smarter decisions.
As part of The Bucket Ministry process, we have been actively using GIS since February of 2019. Our standard protocols involve affixing a unique, waterproof barcode to every bucket filter that we or one of our partners distributes. At that point of distribution, we scan the barcode with a tablet or smartphone and collect brief, but insightful, data from the recipient of the filter. This data will give us baseline information on that family's physical and spiritual health. This data will serve as the starting point for three follow up visitations that our teams will perform in the field. Upon each follow up, the pastor or missionary will again scan the barcode and collect brief survey data that can be compared against the original distribution data to show if their health is getting better, and if they are growing closer to Jesus.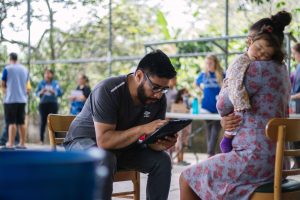 GIS allows us to make better, faster, more effective decisions to minister to many different people groups around the world. GIS also allows us to connect our donors and sponsors to the very people they are helping with a groundbreaking notification system that we pioneered with our friends at Sparrow Data Solutions.