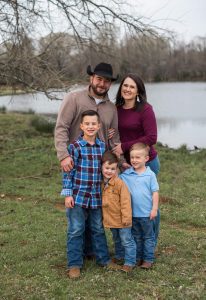 Missionary Corner
The Bucket Ministry is pleased to announce that Cody and Ashley Burnett from Bullard, Texas, have made the decision to move to Tabatinga, Brazil, as missionaries in partnership with The Bucket Ministry. Their family plans to move in November of this year. Here is a little profile on the family as well as some ways you can pray for them:
What are your kid's names and ages?
Denim (8), Dawson (4), and Daxton (3)
How did you hear about TBM?
Well, that's a total "God-thing". Our mission's director at our church was on a mission trip to the Amazon in the summer of 2017 when her boat passed another boat (if you know how huge the Amazon River is you know how big of a deal this is). On that other boat was Chris Beth. She saw his Bucket Ministry shirt and knew she HAD to talk to him. So she did. After this encounter, TBM was introduced to our home church in Flint, Texas. Cody and I were on the first trip our church took using the buckets and that is where we met and got to know Chris, in the jungles of Guatemala. We knew very early on that there was going to be something special between him, TBM, and our family.
Why did you want to join TBM?
While in Guatemala, I [Ashley] became overwhelmed by the beautiful simplicity of this ministry. Since that week in the jungle, I have been convinced by the thought replaying in my head: "This is what we [the Church] are supposed to be doing; sharing clean water and the Living water." Afterall, that is exactly what Jesus did. He met people's physical needs as a deeply imbedded picture of the Kingdom of God that He was speaking of.
Cody feels exactly the same way. Not to mention we both love the access this tool gives you to go (and go BACK) to places where many missionaries have a lot of trouble gaining access.
Why Brazil?
When we surrendered to the call to full-time missions, we simply laid our "yes" on the table. We had no real idea of where God wanted to use us. But He quickly began closing other doors while this one remained open. Then over and over confirming through many different circumstances this is where He wants us for now.
How can we pray for you?
Right now we are in the process of raising support to go. Please be in prayer that God will lead us to the right people and the right people to us to lock arms for His glory.
What is a fun story or detail about your family you'd like to share?
Since our oldest son gave his heart to the Lord at age 6 he said he wanted to "go around the world and tell people about Jesus." Originally he wanted to go to China after watching Kung-Fu Panda and noticing their beliefs. Then He wanted to go to Las Vegas because he heard it was called Sin City.
Does your family have a favorite bible verse?
It changes from season to season but for now it is:
"Now when they saw the boldness of Peter and John, and perceived that they were uneducated and untrained men, they marveled. And they realized that they had been with Jesus" (Acts 4:13)