Today, we share a story of hope written by Solomon Wakhungu, The Bucket Ministry team leader in the Kibera slums. Let us introduce you to our friend Millicent.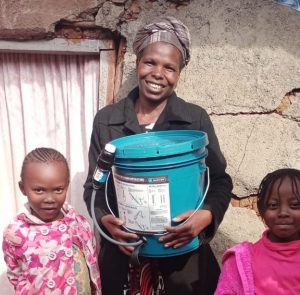 Millicent, a single mother to three children, is a beneficiary of the water filter given by The Bucket Ministry. Throughout their lives, Millicent and her kids have been exposed to infection from waterborne diseases because of water they have been using. The water is unclean due to poor sewage and drainage systems. The leaking pipes pass through the sewage, bringing contaminants into the water.
The water filter distributed by The Bucket Ministry is the best solution to this issue. It provides clean, safe drinking water that is cost effective for her household — cutting down on medical bills from treating the water-related illnesses. The fact that the filtered water is free and readily available has cut down on expenditures. This has saved Millicent the cost of fuel for boiling drinking water for her household and the cost of buying bottled water for home use.
The spiritual life of Millicent has improved greatly. Millicent was once a Christian but had moved away from Christ. When The Bucket Ministry team shared the love of Christ during their follow ups, she recommitted her life to Christ and is now doing well under the discipleship classes. She become friends with two members of our team, Phoebe and Judy, who she calls to her house for fellowship anytime she is in need. At the time of recording this story, Millicent did not have a connection with a pastor, but we are praying and guiding her on this matter.
The antiparasitic medicines have been a great boost to the health of both Millicent and her children who now enjoy a healthy life, free from the health risks caused by bacteria from the unclean water they were using previously. The family does not experience skin rash, sore throat, or diarrhea anymore.
Millicent, like many other single mothers, depends on a *hand-to-mouth* livelihood. The provision of the filter has cut down on medical bills and totally removed the cost of boiling water. The extra money earned from the labor wage can now support her and her dependents better.
It is worth noting that her household also enjoys friendship and family provided by The Bucket staff who visit them, counsel them and pray for them. More so, Millicent Atieno Shikuku is now sure that if she died today she will spend her eternity with God. Her relationship with neighbors has improved a great deal in a slum where nobody bothers with their neighbors' lives. The Bucket Ministry water filter has allowed her to share clean, safe drinking water with the neighbors. Discipleship lessons have made her  a person of peace.
Thank you Bucket Ministry for the selfless love and compassion for the Kibera people. God bless you for giving yourselves to reach out to these lives. May the doors of financial provision be opened to provide a bucket, filter, Bible and antiparasitic medicine to every family in Kibera slum.
edited and curated by Emma Aly